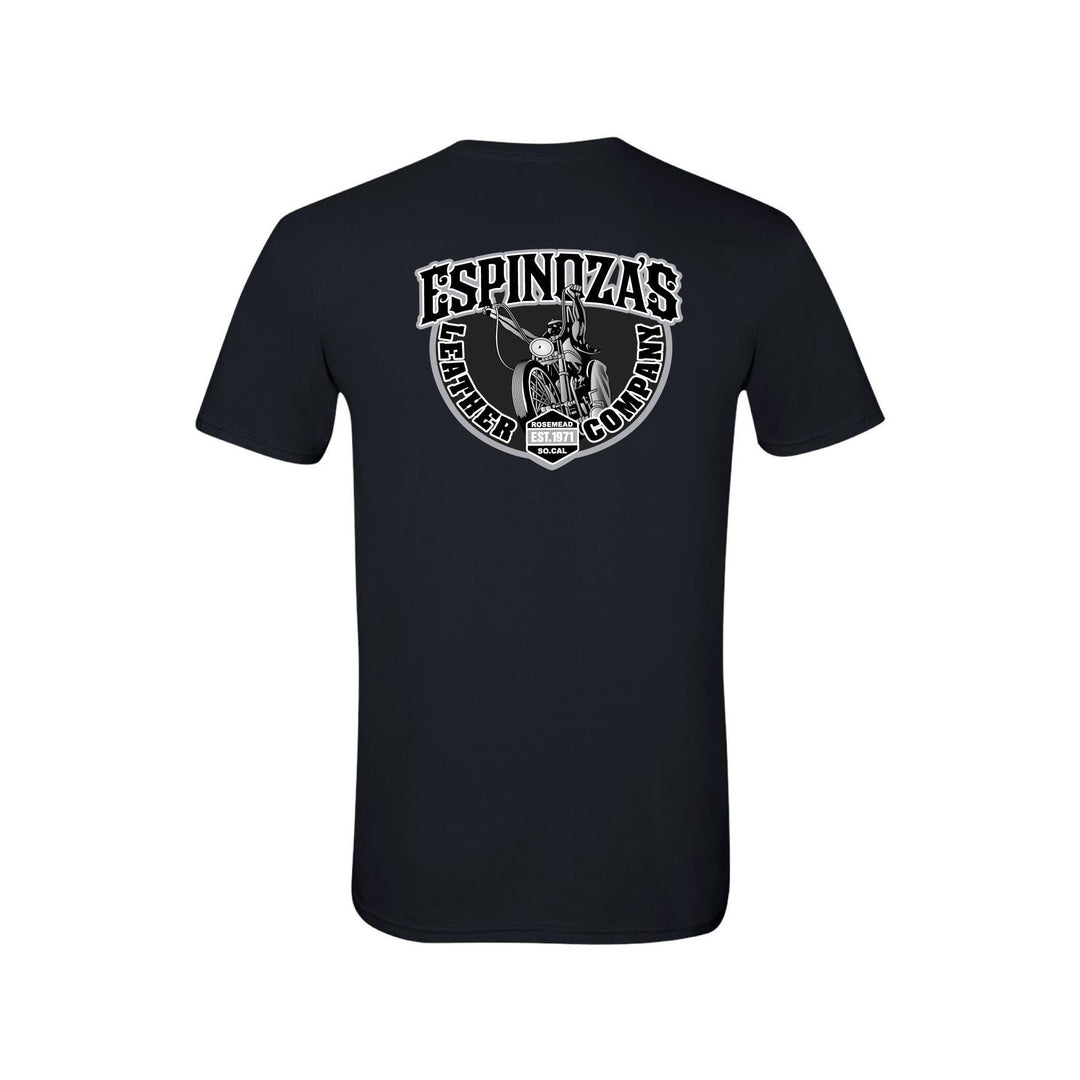 Espinoza's Traditional Logo S/S T-Shirt -Black
---
Introducing the epitome of casual luxury – the Espinoza's Leather Logo'd t-Shirt Crafted with meticulous attention to detail and designed for comfort, this t-shirt seamlessly marries the timeless appeal of 100% cotton with the edgy sophistication of leather accents. The perfect blend of style and ease, the "Espinoza's Leather Black T-Shirt" is a versatile wardrobe essential that effortlessly elevates your everyday look.
The body of the t-shirt is crafted from premium 100% cotton, renowned for its softness and breathability. The black fabric provides a sleek backdrop, while the leather accents add a touch of intrigue and uniqueness. The leather detailing, carefully placed along the neckline and sleeves, infuses a hint of urban elegance that sets this t-shirt apart.
With its tailored fit and minimalist design, the "Espinoza's Leather Black T-Shirt" serves as a canvas for your personal style. Whether worn on its own for a relaxed yet polished appearance or layered beneath a jacket for a more refined ensemble, this t-shirt embodies effortless versatility.
Care Instructions: To maintain the allure and longevity of your "Espinoza's Leather Black T-Shirt," follow these care instructions to preserve its character and extend its lifespan:
Machine Washing: Turn the t-shirt inside out before washing. Machine wash it in cold water with like colors using a gentle cycle.

Detergent Selection: Use a mild detergent to protect both the cotton fabric and leather accents from harsh chemicals.

Avoid Bleach: Refrain from using bleach or strong chemicals, as they can compromise the quality of both the cotton and leather.

Drying: After washing, reshape the t-shirt and let it air dry on a flat surface. Avoid wringing or twisting the fabric.

Ironing: If ironing is necessary, turn the t-shirt inside out and use a low-heat setting. Avoid direct contact between the iron and the leather accents.

Storage: Fold the t-shirt neatly and store it in a cool, dry place away from direct sunlight. Avoid hanging it to prevent stretching.

Leather Care: To maintain the leather accents, apply a specialized leather conditioner or cream according to the product's instructions. Avoid excessive exposure to moisture and sunlight.

Avoid Friction: When wearing the t-shirt with accessories or layered clothing, be cautious to prevent friction damage to the leather accents.
By following these care instructions, you ensure that your "Espinoza's Leather Black T-Shirt" remains a luxurious and cherished piece in your wardrobe. Embrace the fusion of comfort and sophistication, making it a staple in your everyday style journey and allowing your individuality to shine through with every wear.
Use collapsible tabs for more detailed information that will help customers make a purchasing decision.
Ex: Shipping and return policies, size guides, and other common questions.