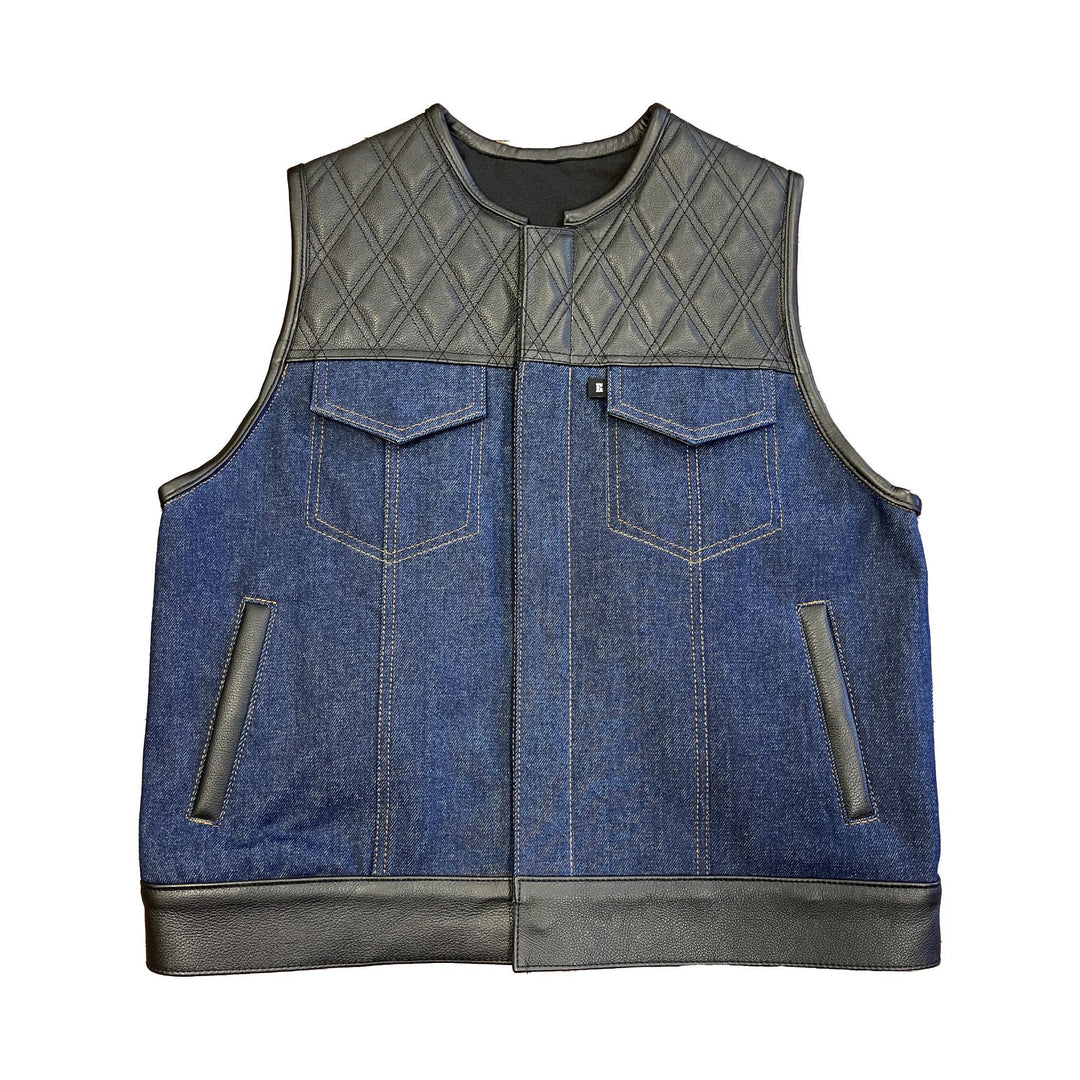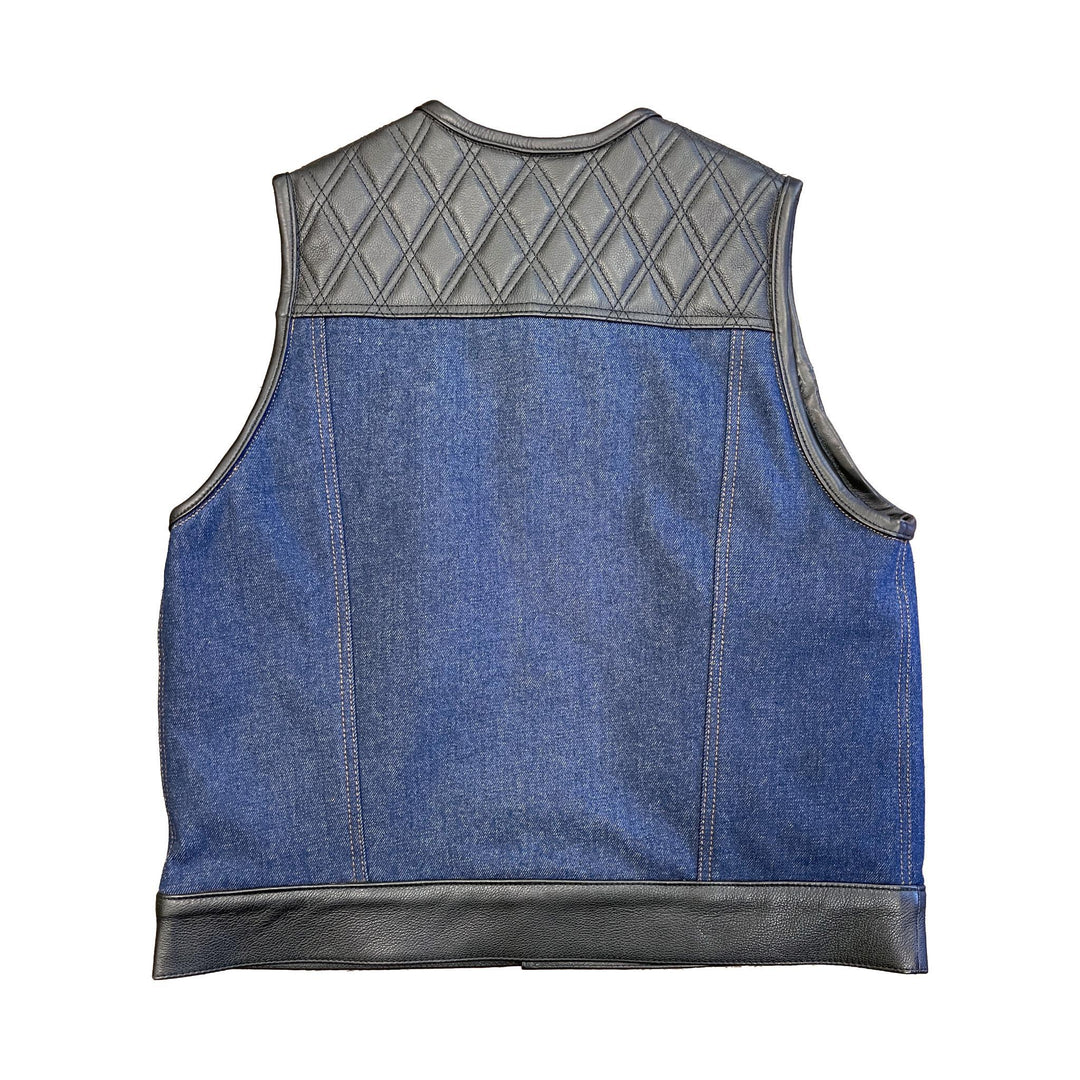 "In Stock" Double Diamond 501 Hybrid
---
UV coated, full grain, 1.5 mm thick black cowhide with diamond stitch exterior collar, shoulder piping, chest panels, chest pocket flaps, lower pocket lips, and waistband
14 oz. 501 blue denim exterior torso and chest patch pocket body
White, poly-cotton stitching
Hidden snaps and double head zipper for front closure
One-inch preacher collar
Inlaid Chest pockets with hidden snaps
Lower hand pockets with hidden snaps
Two interior pockets: Left side vertical reach-in pocket and right side horizontal drop-in pocket
Black, industrial poly-cotton liner
Introducing the pinnacle of innovative design and classic appeal – the "Double Diamond 501 Denim Hybrid Vest." This exceptional garment is a fusion of timeless cowhide leather tops and the iconic 501 denim torso, resulting in a vest that embodies the spirit of both tradition and contemporary fashion. The distinctive double diamond stitching pattern adds a touch of elegance, making it a versatile and striking addition to your wardrobe.
The cowhide leather tops of the "Double Diamond 501 Denim Hybrid Vest" are meticulously selected for their luxurious texture and unique grain patterns. Each panel tells a story of craftsmanship and attention to detail, showcasing a balance between rugged durability and refined elegance. The diamond stitching pattern serves as a focal point, creating a visual contrast that sets this vest apart.
The 501 denim torso pays homage to the denim legacy with its stonewashed finish and indigo hue. The denim's weathered appearance reflects a sense of authenticity and adventure, making it an ideal canvas for your personal style. This hybrid vest seamlessly marries the raw spirit of denim with the sophistication of leather, resulting in a fashion statement that defies conventions.
Care Instructions: To ensure the lasting allure of your "Double Diamond 501 Denim Hybrid Vest," follow these care instructions to preserve its character and extend its lifespan:
Spot Cleaning: Address minor stains promptly by gently blotting the affected area with a clean, damp cloth. Avoid excessive rubbing, as it may damage the leather or denim.

Storage: Hang the vest on a padded hanger in a cool, dry place to maintain its shape. Avoid folding or crumpling, as this can lead to creases and distortions.

Water and Moisture: Protect the vest from water, rain, and moisture. If it becomes wet, allow it to air dry naturally at room temperature. Avoid using heat sources, which can harm the leather and denim.

Leather Care: Apply a specialized leather conditioner or cream to moisturize and preserve the cowhide leather tops. Apply the conditioner evenly and sparingly following the product's instructions.

Denim Maintenance: Minimize washing to retain the stonewashed denim's distinct appearance. When needed, turn the vest inside out and wash it in cold water with a mild detergent. Air dry to prevent shrinkage and maintain the denim's original look.

Sunlight Protection: Prolonged exposure to direct sunlight can lead to fading and color changes. Store and wear the vest in shaded areas to preserve its vibrant appeal.

Professional Assistance: For comprehensive care, consult leather and denim specialists. They can expertly clean, condition, and rejuvenate the intricate textures of the vest.
By adhering to these care instructions, you ensure that your "Double Diamond 501 Denim Hybrid Vest" remains a remarkable testament to your impeccable style and appreciation for quality. Embrace the fusion of tradition and innovation, allowing the vest to stand as a versatile and cherished piece in your collection for years to come.
Use collapsible tabs for more detailed information that will help customers make a purchasing decision.
Ex: Shipping and return policies, size guides, and other common questions.